by Becky Jacoby, Reporter
Several OEMs are supplying medical technologies to ensure that athletes have the best of care at the Beijing Olympic Games, beginning this week. In particular GE Healthcare and Carestream Health have equipped Olympic clinical facilities.
GE Healthcare, with experience in sports medicine, is providing electrocardiogram technologies (ECG), and is the sole supplier of MRI equipment to the Chinese Olympic Committee. Carestream Health will provide digital medical and dental imaging to the Polyclinic, the primary medical facility caring for athletes and officials. These diagnostic technologies, intended to support participants' health and fitness, could be particularly beneficial as rapid response in the event of injury.
GE's ECG technologies, designed to assist physicians in emerging markets working in a hospital or private practice, will help chart an athlete's cardiac fitness.
In addition to two MAC 5500 resting ECGs, a Dash 4000 bed-side monitor and a CASE STRESS ECG (including the T2100 treadmill), GE Healthcare provided two Signa HDe MR scanners that will give clinicians non-invasive efficient operation and high definition images for diagnoses.
GE also works closely with Olympic host principals to provide infrastructure solutions for Olympic venues including power, lighting, water treatment, transportation and security, and to supply hospitals with ultrasound and MRI equipment to help doctors treat athletes.
GE is also helping the Spanish Olympic Committee by supplying its LOGIQ e compact ultrasound to assist with early diagnosis of athletes' tendon and ligament injuries. In addition, the company is using ultrasound to research cardiac and joint fitness in athletes.
Carestream Equips Polyclinic
Carestream Health is supporting the Polyclinic as part of Kodak's sponsorship of the Beijing Olympic Games. Carestream Health's systems installed at the Polyclinic provide comprehensive medical care for life- and career-threatening injuries, including facial-dental trauma, as well as common ailments.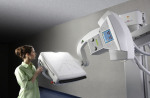 The products the company is providing include DR, CR, RIS and PACS systems, as well as laser imagers, and digital dental equipment. Radiologists and dental professionals will be able to select from several diagnostic tools including Kodak DIRECTVIEW DR 9500 or 3500 Systems, a Kodak Point-of-care CR-ITX 550 system, Carestream RIS and PACS, a Carestream enterprise information management system and a Kodak 800C digital panoramic system. Carestream Health will maintain a presence at the Polyclinic through the Paralympic Games which begin in September.
Though conditioned to rigorous training, pushing performance and enduring physical and emotional stress, athletes find the Olympics a particularly taxing event. The presence of GE's and Carestream's state-of-the-art medical support inspires confidence and reduces concern about consequences of injury or illness so they can focus on performance and representing their respective teams.
Johnson & Johnson is also contributing diagnostic and sterilization equipment medication, and sports medicine supplies to the Polyclinic.
In other Olympic health news, the air quality in Beijing is an ongoing concern and several athletes arriving for this week's games have donned facemasks for protection. The Global Allergy and Asthma European Network (GA2LEN) will conduct a study of asthma and allergies among competing athletes.
Category: Web/Tech